Igor Sovilj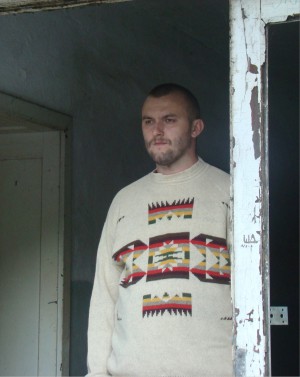 Igor Sovilj was born in 1981 in Sanski Most. He graduated at the Academy of Fine Arts in Banjaluka, painting department, in the class of professor Veso Sovilj. During the time 2009-2011 He was at Trans Media Akademie, Hellerau-Dresden, programme "Cultural management East and Central Europe" Robert Bosch Foundation. Igor is a member of art group TAČ.KA, as well as otker associtaions with different social engagement. He is involved in management project and curatorial work.
Exhibition and art residencies:
Multiplace – new media art festival, (Brno – Bratislava – Budapest – Nantes – Cluj – Reykjavík)/Instalation, web art/2011; La Biennale du Film Exposé/Installation exhibition/(Montreuil)( ETCaetera), 2011; Open City/Photography/AMAZElab Arte&Cultura, 2010; ETCaetera web residence,2010; The Last Match/Exhibition/Galerie MZIN (Leipzig), 2010; Contemporary Bosnian Art in Struggle with a Dead Hares; Cultural Centre Banski Dvor, (Banjaluka), 2009; Art residency, Arte Sella laboratorio di Arte Natura, Borgo Valsugana, Italija, may-august 2008; Imaginary pavilion Bosnia and Herzegovina/Exhibitiona/Studenski kampus Vrbas, (Banjaluka), 2008; Exhibition of award "Zvono" (Banjaluka); Parallel Events to Manifesta7/Exhibition, installation, performance, (Trento), 2008; Ekološka strašila/Installations (Prijedor), 2008; Glavom u zid/likovni laboratorij/Gallery96, (Prijedor); Dani Duge festival/intervention, exhibition (Ljubija), 2007.
The relation between video and audio in the work «AV Diaries» is crucial. It can be interpreted, apart from the obvious implication inside the plane mother-son, which insists on Freudian mechanisms of theoretical editing, as a Cartesian motivation of dichotomy body-spirit. From this, I'd say a more sensible theoretical vertical, we separate the visual problem of the body's representation, initiated by the late feeling of guilt in its gestures (stated in audio), from audio subject less principle, which is a typical cognitive category, like objection to conscious. However such audio-video Cartesian-ship is good to be taken only as a literary approach, since it is directly connected to the entities important to understand «AV Diaries», but it also initiates analysis of two initial categories of the work, and those are the body of the feeling of guilt, and cognition of the feeling of guilt, both in the domain of a concrete personality, and the domain of social charge, shaped into a concrete personality.