Irena Sladoje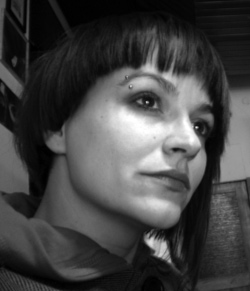 Born in 1976 in Fojnica. Graduated at the Academy of Fine Arts in Sarajevo in 2003. In the same year she becomes undergraduate of the same Academy at the Department for painting.
Working experience: 2005 Ergoterapist, Institute for Protection and Youth in Pazarić.
Working with children with special needs and psychiatric patients. Set designer on the film by Nenad Đurić "The Sky Above the Landscape," HEFT production Sarajevo, lecturer and leader of the painting course for children, Cultural Center Sarajevo; Author of puppets for puppet shows and TV children show Lutkokaz, Federal Television Sarajevo.
The most important working experience the artist is basing on her social work with people with special needs and psychiatric patients.
In 2004 she had solo exhibition in the Gallery IPC, Sarajevo. In the period from 2004 till 2009 she participated in various group exhibitions in the country and abroad.
Pain, 2009
EEG diagram print 24cm x23cm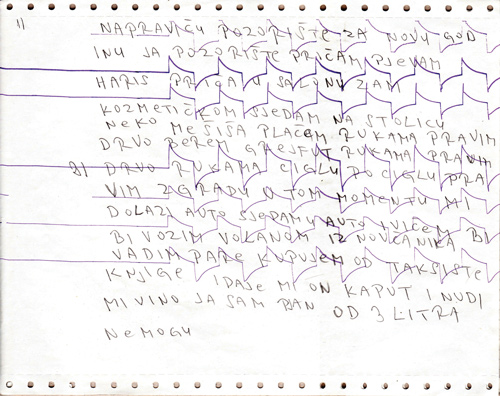 EEG is a diagram of my brain's function, during the period of pain in my head*. The text written on it is by H. B. who suffers from schizophrenia** and it represents his daily record of his pain. Two different records, two different kinds of pain, flow one over the other, like a film roll and touch each other in a graphic visual form.
* Diagnosis: neuralgy of the nervus trigenimus. A strong neuralgic pain suddenly appeared, lasted for three weeks, and then it disappeared;
Cause: Unknown
** Diagnosis: hebephrene schizophrenia, a lasting illness without periods of remission;
Cause: Unknown
Irena Sladoje