Dajan Špirić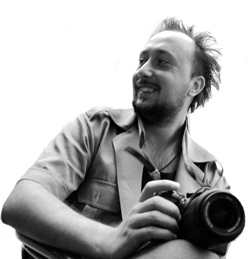 Born in 1984 in Zenica. He graduated at the Academy of Fine Arts in Banja Luka Department of Graphic in the class of Professor Zoran Banović. Since 2007 he is a member of the Tač.ka, Fine Arts Association from Prijedor.
Solo exhibitions: 2009: Misteries of Academies, exhibition of print Center for Print and Visual research (Belgrade), 2008: Misteries, exhibition of print, Banski dvor (Banja Luka), 2007: Block out, exhibition of drawings, Academy of Art (Banja Luka) Participated in several group exhibitions: 2009: Visual Container, Italian Videoart Distributor, (Milano); Video Channel, (Kologne).
2008: MANIFESTA7 – parallel events, (Trento); SPAPORT – International Annual Exhibition of Contemporary Art (Banja Luka); ZVONO 2008, Young Visual Artist Award BH – Group Tač.ka, finalists exhibition, Museum of Contemporary Art RS, (Banja Luka); 4 International Bienniale of Small Graphic (Tetovo). 2007: 4 Biennial – Miniature Art Bosnia and Herzegovina (Tuzla); 14th Tallinn Print Triennial (Talin).
Website: www.dajanspiric.com
Minesweeper Bosnia & Herzegovina, 2009
digitally generated interactive art work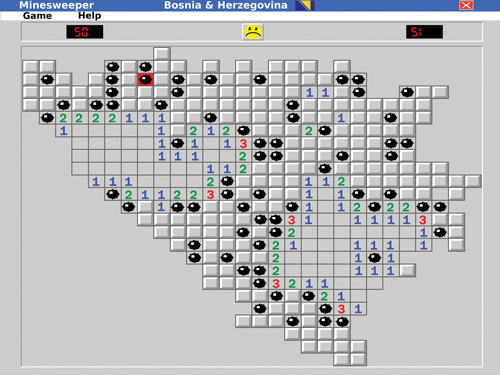 Minesweeper is a popular, entertaining logistic game, meant for relaxation. Minesweeper Bosnia&Herzegovina, a digitally generated interactive artwork, works on the same principle as the original game. Shall we lightly play it and click on mysterious fields if we put the game in the context of Bosnia and Herzegovina?
Remark:
Bosnia and Herzegovina is still the most mine-contaminated country in Europe. It is assumed that 3.2% of the BH territory is still covered with mines. It is estimated that the locations covered with mines influence the safety of over 900.000 people, which puts our country among the most jeopardized in the world, and thus impedes its economic development and safe living environment for its citizens. Since 1996, 1.667 people have been either injured or killed by mines in Bosnia and Herzegovina. Last year there were 39 victims, and 19 of those were killed.
(Source: www.bhmac.org)
Dajan Špirić