Borjana Mrđa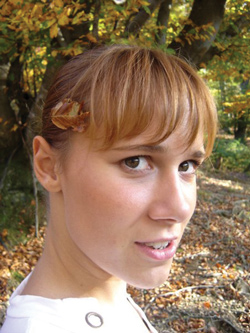 Borjana Mrđa was born in Banja Luka, 1982. She graduated Painting at Academy of art in Banja Luka in 2005. At this moment she is finishing her Master's Degree and working as an assistant at the University of Banja Luka.
Solo exhibitions: 2008: Izložba slika, Banski Dvori, (Banja Luka). 2007: REANIMACIJA, (Banja Luka); Izložba crteža, Galerija Narodne skupštine, (Banja Luka). Group exhibitions: 2008: Balkan – kulturni prostor bez granica,Galerija Laza Kostić (Sombor); Izložba asistenata Akademije umjetnosti u Banjaluci – 33 godine rada i razvoja Univerziteta, (Banja Luka); 9.Međunarodno bijenale umjetnosti minijature (Gornji Milanovac); SPAPORT – International annual exhibition of contemporary art (Banja Luka); Terminal 00, Ada Street Gallery (London); Moja zemlja, Štaglinec (Koprivnice); 2007: Internacionalni festival Sarajevska zima, Galerija MAK, (Sarajevo).
"TRANSFIGURATION", 2009
Video installation, 7'10''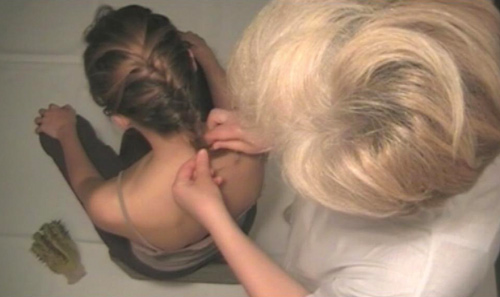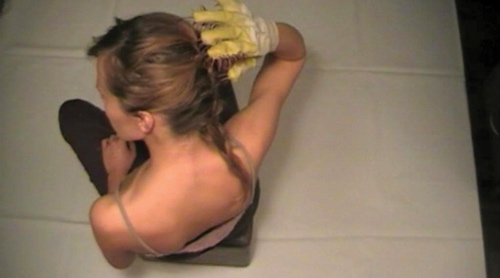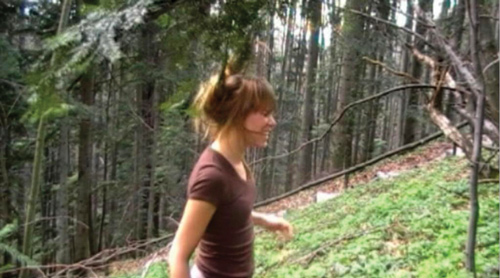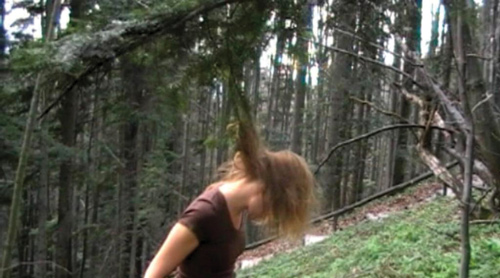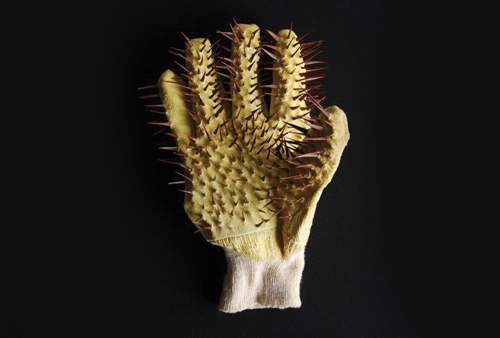 Transfiguration as a form and mental transformation, the evolution of personality.
The undoing of the tress is an act of not excepting the constraints and conventions of individual destiny, generally excepted way of life and social order through the personality of artist and a woman.
The work is constitution of two videos.
In the first video my mother forms the tress from my hair. I put the brush-glove on, which I made from working glove and natural thorns from acacia wood (wood that doesn't decompose, wood whose thorns were used to make the crown of Christ) and comb my tress until my hair becomes free from any form. In relation to the daily ritual of combing to be "beautiful" this way of combing the hair is done primarily to release the hair of any traditional form of women's hairstyle (tress).
In the second video my hair is entwined with the branch of Pine tree, on the mountain Kozara where I was born and where my identity started to take form, which was suddenly interrupted in 1991.
I am trying to separate the hair from the Pine branch.
I'm trying to move, which is painful and almost impossible because the branch plucks my hair every time I move my head. By strong will, persistent efforts and crossing the boundaries of pain I ménage somehow to free myself from the addiction to negative past separation.
About my work
In my work I tend to explore the possibilities of the body as a media communicator in artistic work. By using the body as metaphor together with constructed objects of my creation I am exploring the limits and absurd influence on that same body. Through this kind of approach I`m trying to appoint some questions and to imply the possible answers through these works:
Enclosing from the influence of other identities, which is manifesting as an attempt to protect the authenticity and independence of one's own?
Threat from the configuration of the identity according to socially accepted norms.
Attempting to visualize and formally represent the identity categories on individual social level.
Area of the past established in reference to fear of losing the identity. Fear defined as a substance. Each substance is dissolvable or dissolves itself?
Art as a mechanism used for disruption of social patterns used for manipulating an individual.
Borjana Mrđa