Arman Kulašić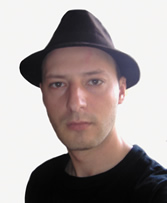 Born in 1980 in Prijedor. In 2007, graduated form the Academy of Fine Arts in Sarajevo, Department of Painting in the class of Professor Nusret Pašić.
participated at group exhibitions: 2004: Tko to tamo pjeva?, the National Art Gallery of  BIH (Sarajevo). 2006: Permanent Presence, White Box Gallery (New York); Beton Salon, Museum Quartier 69 (Vienna); PitchWise, Historical Museum (Sarajevo). In 2004-2006 participated at the video/audio/web workshops Digital Demystification, organized by SCCA, pro.ba; in the experimental video-documentation project Journal No.1; an artist impression. 2007: the Art and Survival workshop organized by the Connecting Cultures.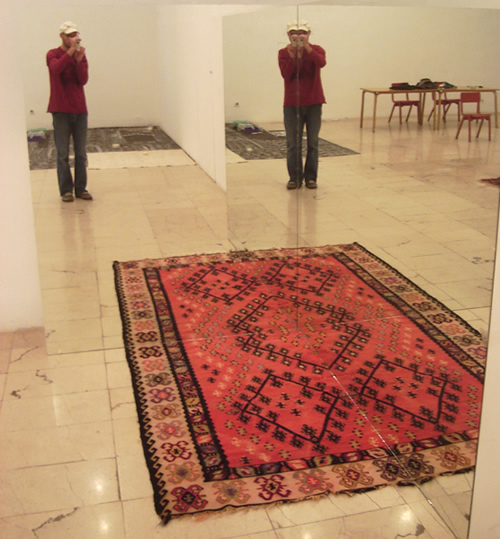 "One-fourth of carpet and the remaining three-fourths that are missing", 2007.
Installation, material: 1 woolen carpet, 2 mirrors
2 X 1,5 X 1,86 m.
One-fourth of a carpet found in the junk (properly washed and dried out) lies in a corner of the room so that its cut-off sides are put against the wall, i.e. against the mirrors. In parallel to those cut-off sides of the carpets there are these mirrors; together, they make a 90-degree angle. Due to an optical phenomenon, one/fourth of the carpet is projected on the mirror, creating an imaginary visual whole.
With my need to heal the carpet, to make it a whole again, by experiencing it in the psychologically-existential sense as my own wound, I have projected, trying to solve the problem on a symbolical level, in the space of extra-corporeal – extrapolated (externalized) self-healing. In other words, I define and project my personal trauma, related to the problem of identity, through an apparently healed identification mark in an extra-corporeal space.
Arman Kulašić