Leila Čmajčanin
"Memoirs" series, 2004 – 2007
Linocuts and texts, dimensions variable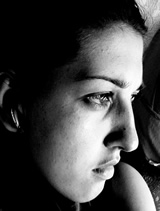 Born 1981 in Sarajevo, B&H. Secondary School for Aplied Arts completed in Sarajevo. Studied at Academy of Fine Arts, Graphic department in Sarajevo.
One of the founders of of Visionary Society and initiator of Barake project. Working in fields of Graphic arts, design and performance.
E-mail:[email protected]
Solo exhibitions: 2006: Now Colonize 'em all, The Wall Gallery, Kino Bosna (Sarajevo, B&H); Memoirs, ArtAtak / SCCA, Caffe Club So.Ba, (Sarajevo);
2004: Memoirs, Gallery Tautologija (Sarajevo).
Participated at numerous group exhibitions, among the others:
2006: 4th MSE meeting, International seminar, National Art Gallery (Prishtina, Kosova); Autoplay, International meeting and exhibition, Kontekst Gallery (Belgrade, Serbia); Hope Box Ice Cream Event, Go Gallery (Amsterdam, Netherlands); TIPIC_NO, Künstlerhaus Stuttgart (Germany); Permanent Presence, White Box Gallery (New York, USA); Transition Compound, destination 1: Tokyo, International Exhibition, Asahi Art Square Gallery (Tokyo, Japan); Transition Compound, destination 2: Berlin, International exhibition, Nord Gallery (Berlin, Germany). Participated at Fayz-e Abdest performance by Alma Suljevic, BetonSalon, Museums Quartier 21 (Vienna, Austria), and at the same performance in Hanikah (Sarajevo) in 2005. 2005: Visionary Society and Friends, Barake (Sarajevo); Interground, the Exhibition of young artists, City Gallery Collegium Artisticum (Sarajevo); Re_Cultivation, International exhibition, Barake, squat (Sarajevo); Unplugged, The 1st Exhibition of Visionary Society, Barake (Sarajevo); Hope Box Remix Tour, Roman Petrović Gallery (Sarajevo), Culture Center (Mostar), Kosova Art Museum (Prishtina), SKC Gallery (Belgrade); Aktuelno 2005, International Festival Sarajevo Winter, City Gallery Collegium Artisticum (Sarajevo). 2004: Group Exhibition, Tautologija Gallery (Sarajevo).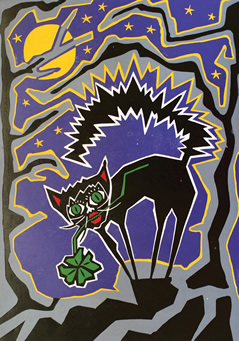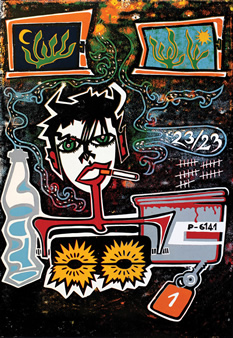 I examine identity through art – I deconstruct and re-construct my own identity, trying to find the point where individual identity ends, and where the collective one begins. Doing this, I am trying to avoid the Identity imposed by law and by current system. Carving the portraits using rough graphic technique, creating the virtual in the guise of the mythological, I pose the questions of Identity, and, in the same time, I offer a hundred of potential answers.
Leila Čmajčanin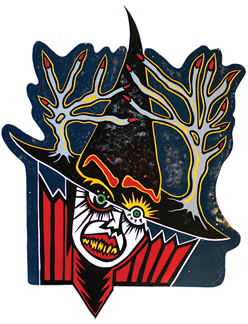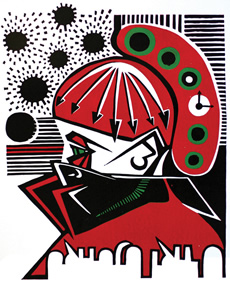 Introduction
Once I have become a great and famous artist, I realised that it was time to start making the kind of art that would defend my dignity. Although I already had some works that have made me become a member of the Association of Women Artists of Bosnia and Herzegovina, they were not still worthy of great and famous artist who I have become in the meantime, so I had to start conceiving my new works.
To start with, I made an inquiry into what was fashionable. Which themes, colours, forms and techniques were sought after, and, since I came across a multutide of diffrerent answers from a multutude of authorities in the world of art – both in BiH and worldwide – I wisely decided to use the good old widely proven marketing trick. Namely, I have found out that, for a very long period of time, nobody applied the technique of the so-called hight print, i.e. the lino-cut, because that technique was considered to be very difficult, complicated and demanding. So I decided to apply this long-abandoned technique, which – per se – and combined with the approach that always works in the world of fashion, no doubt promises triumphant results. To take as ¨inspiration¨ something that was in fashion some 20, 30, 40, or even 50 years ago, and then to reconstruct it shrewdly and offer it to audience as a completely new product that has never been seen before. The issue of technique was thus solved and what remained to be done was to find an equally interesting form for my future works as well as a theme that would surprise my audinece. As for the form, that was a problem I solved relatively easily. I went to a library and found the only remaining monograph of an old master who has been fogotten and, as experienced artists would put it, I found my inspiration there. It was a monograph of the Spanish artist called Pablo Picasso. I was sure that nobody was interested in him any more. So, what remained to be done was to find an interesting theme. Well, that was not easy at all. After a long process of exhaustive thinking which was incessantly interrupted by my awareness of my onw being – as the most interesting person and the most exciting phenomenon in the world – I came to the conclusion that, the most important thing im art is to be honest. So, led by this principle, I came to the idea that it would be the most honest while, at the same time, it would boost my already sufficiently great artistic fame, to continue dealing with my own person. Thus, opting to deal with the theme of self-portrait, I solved the issue of the theme. It took me more than a year of workng every day form 9 am to 5 pm to realise my idea, which eventually paid off. After this, I have become such a celebrity that my fame could only be measured with that the fame that, once upon a time, used to be enjoyed by the aforementioned long forgotten artist.
Leila Čmajčanin