Lala Raščić
The Invisibles, 2005
series of computer drawings, print on canvas, dimensions variable
The Invisibles, a rehearsal for an audio drama, 2005
30 minutes, MiniDV, PAL/ DVD, stereo, color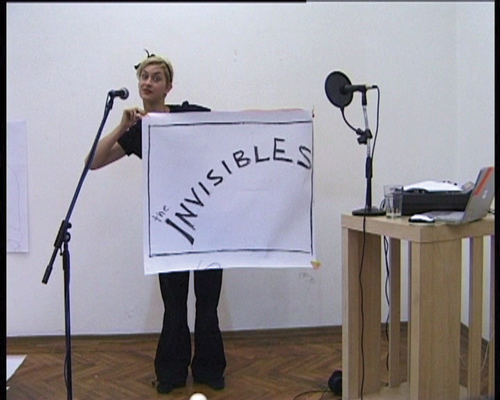 Lala Raščić, born in Sarajevo (1977), graduated from the High School of Applied Art and Design (1995), received BA from the Academy of Fine Arts (2001) in Zagreb, and completed a two-year work period at the Rijksakademie van Beeldende Kunsten (2003/04) in Amsterdam.
Her work has involved a wide range of media, particularly video. Recently her interests have shifted to working with narrative audio and vector based computer drawing. Along with her nine solo shows, she has exhibited internationally at group exhibitions and film festivals, and participated in artist residency programs. Her video and online projects have received awards. About her work Lala says: I often search for metaphors found in everyday life, popular culture or literature. I employ them as easily recognizable concepts onto which I layer meanings. I strive to make work that can be experienced beyond sole intellectual interpretation and which is communicated on a sublime level.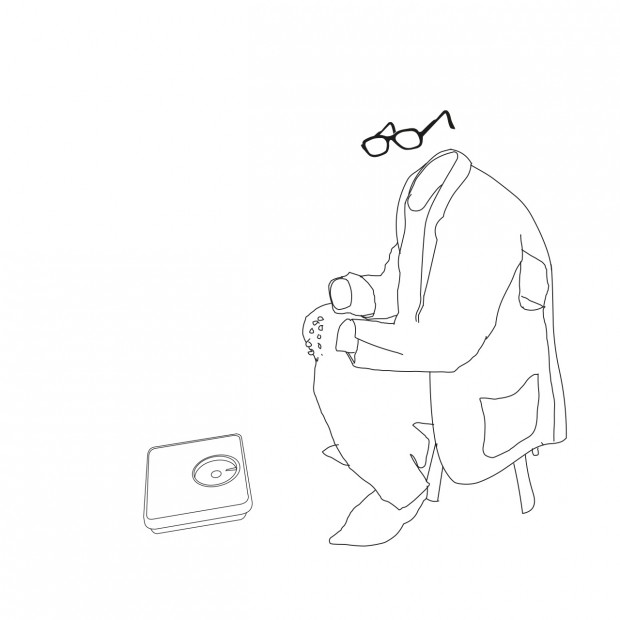 The Invisibles project is best seen as a continued exploration of the topic of escapism in my work over the last two years. I stumbled upon the concept of Invisibility while contemplating the utimate state of/for freedom. Of course, the metaphor of invisibility develops further and in this project I tried to touch upon many aspects and connotations that are tied to the notion of "in-visibility".
As in the H.G. Wells novel, the idea of physical invisibility in this project is used as a metaphor for the outsider, the socially outcast individual. On the other hand, the Invisible man is not only invisible because of his social status or our choice not to see. The Invisible Man can also be the one with the "Power".
The drawings touch upon the various aspects of invisibility: social and civil invisibility, the notion of escape, criminal activities, freedom, identity and the "what-if" realitiy of a physically invisible person.
Along with the prints, the main part of the project is a video showing a performance of an audio drama of the same name: The Invisibles. A story of an invisible family planning to go on a vacation is delivered through a conventional narrative structure. The main protagonist is Mrs. Invisible, who attempts to regain her lost identity and obtain a passport. This light satire touches upon the absurdities of contemporary society: the bureaucratic mechanisms, collective paranoia and surveillance systems.
In this work the idea of the "invisible" is tied in with the notion of the "other".
This work is neither an audio drama nor a video in the full sense; it lingers as the "other", in between the two genres.
Lala Raščić